This was a quick and easy dessert to make. I liked that it was a sheet cake, so I made to to take to Sunday School for treats. The left overs were well received at school the next day!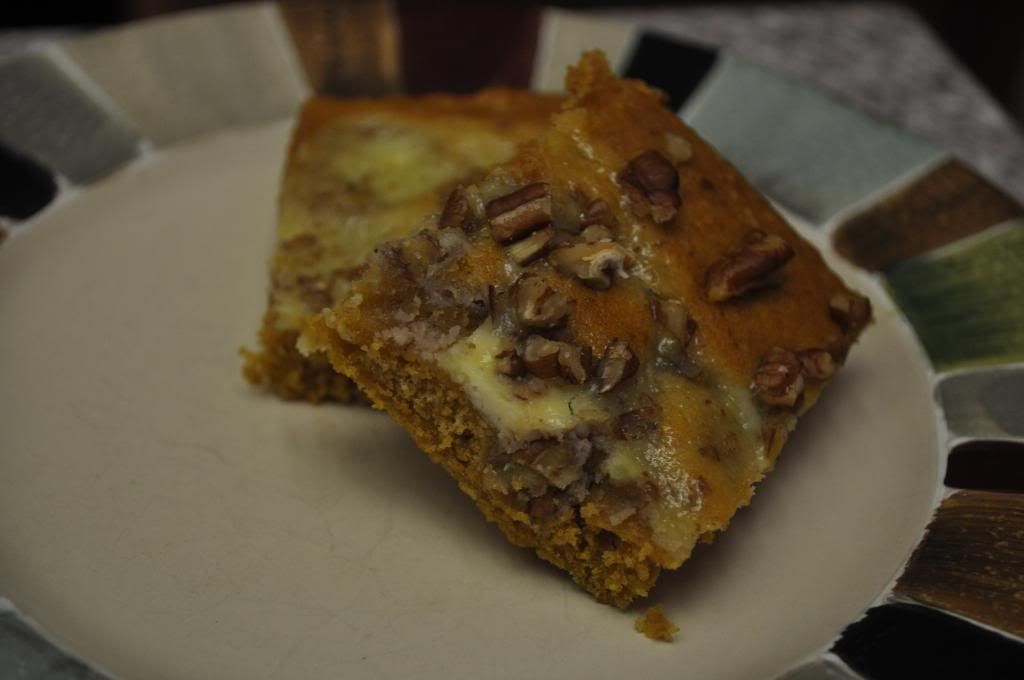 http://magnoliadays.com
1 cup unsalted butter,softened
2 cups firmly packed brown sugar
2 large eggs
1 teaspoon vanilla extract
2 cups all purpose flour
2 teaspoons baking powder
1 teaspoon ground cinnamon
½ teaspoon ground ginger
¼ teaspoon ground nutmeg
½ teaspoon salt
1 ½ half cups pumpkin or butternut squash puree
1 cup chopped pecans
½ cup sour cream
4 Tbs sugar
2 egg yolks
1 Tbs whipping cream
Preheat the oven to 350º. Butter and flour 15x18 inch baking pan.
In a large bowl beat butter, gradually add brown sugar and beat until light and fluffy. Add eggs, one at a time, beating well after each addition. Add vanilla.
Add flour, baking powder, spices and salt and beat until just mixed. Beat in pumpkin puree.
Pour into prepared pan and smooth top.
In a medium bowl mix sour cream, sugar, yolks and cream. Drizzle mixture on top of cake batter and swirl with a knife. Sprinkle pecan on top and bake 30 to 40 minutes, until a tester inserted in the middle of the cake comes out clean.
Let cool on wire rack. Cut into squares and serve.