Jenna made this recipe for breakfast during her Christmas/New Year break from school. We all liked this and got more than the 6 slices of bread it called for.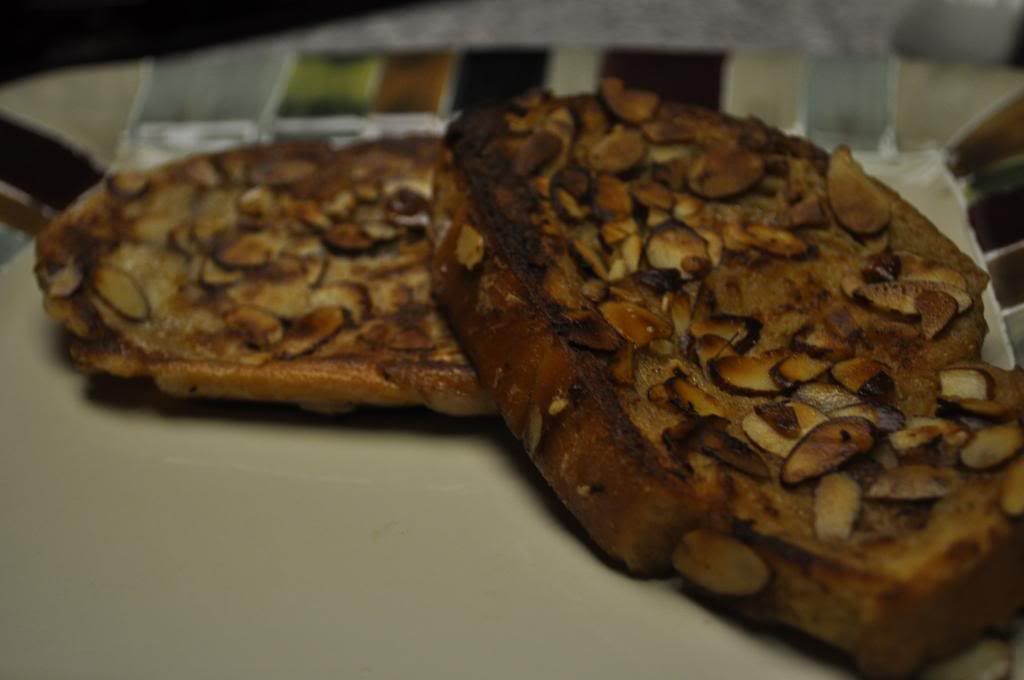 Almond Custard Brioche French Toast
My Year in Meals by Rachael Ray
3 large eggs, lightly beaten
1/2 c heavy cream or half and half
1 c milk
1 t almond extract
pinch of ground cinnamon
pinch of freshly grated nutmeg
6 thick slices day old bread(brioche is suggested) we used french bread, thickly cut
sliced almonds
4 T butter
2 T oil
Preheat oven to 250.
In a baking dish, whisk together the eggs, cream, milk, almond extract, cinnamon and nutmeg until combined. Soak the bread in the egg mixture until completely soaked through. On wax paper, scatter the almonds and turn the bread slices to coat with the almonds.
On a large griddle, heat 2 T butter and 1 T oil over medium high heat until it begins to sizzle. Add 3 slices of bread at a time and cook, turning once, until golden and crisp on both sides--about 2 minutes per side. Repeat with the remaining butter, oil, and bread. You can keep each batch warm in the oven while you are making the next batch.