I ended up doubling this recipe since I had more than 2 cups of cauliflower 'rice' after processing it. I made 24 mini muffins and 1 pizza crust that I baked and then topped with pepperoni, sauce and cheese and baked. Next time, I will add salt and pepper and possibly pizza toppings into the batter. I liked them.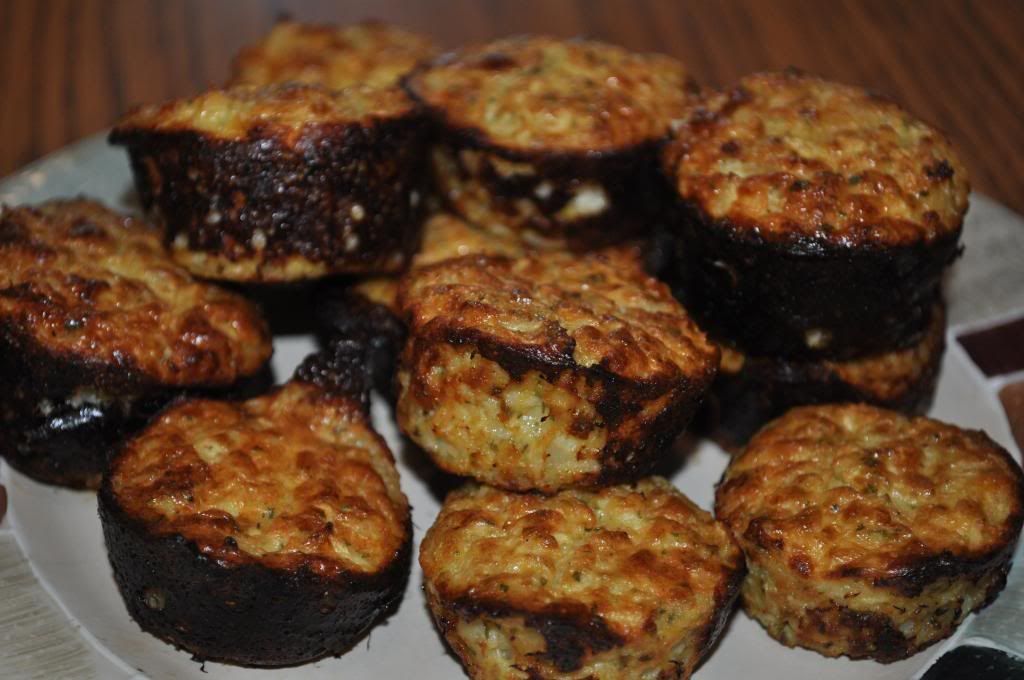 Yield: Makes 24 Cauliflower Pizza Bites
2 Cups Grated Cauliflower (washed, dried and grated using a food processor or cheese grater by hand until rice-like or thinner – Note – Approximately one head of cauliflower)

2 Eggs

1 Cup 1% cottage cheese

1 Tsp oregano

2 Tsp parsley

1/4 Tsp garlic powder

1 Tbsp olive oil

1-2 Tbsp Frank's Hot Sauce (Optional)
Pre-heat your oven to 450 F.

Using a healthy cooking oil spray your mini muffin tin.

In a hot frying pan, add olive oil and stir fry the "cauliflower rice" until the cauliflower is slightly translucent Place in a bowl and let cool.

Place all other ingredients the food processor and blend until smooth.

In a bowl combine both the "cauliflower rice" and blended ingredients. Mix completely.

Evenly spoon mixture into your muffin tin molds. Press pizza dough down evenly and firmly

Place in your oven and bake for 25-30 minutes.

Remove the pizza bites from the oven and let set until cool (This is also very important – let these pizza bites set in their pan for 5 – 10 minutes before removing – If you take them out while they are too hot they will break).

Once cool remove from muffin tin (either by tipping them out OR by running a thin knife down along the side and popping them out).

Use organic, natural pizza or pasta sauce for dipping.
Tips –
Here are my main tips to make your pizza bites crusty:
Make sure your cauliflower is dry after washing.

Bake until crust-like. If you peak at your crust at the recommended cooking time and they are not golden… cook longer.